Check out Jennifer's Blog y'all.
She's got a giveaway going on, for a gift card to one of four places.
The giveaway ends Friday- so make sure you go check her out!
*~~* *~~* *~~* *~~* *~~* *~~* *~~*
Also- It's Mingle Monday!! I love Meg and her Mingle Monday.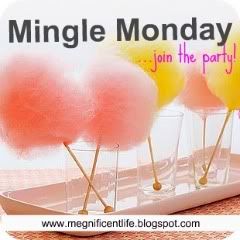 For those of you stopping by, hidy! Nice to meet ya!!!
Check out my
most recent post
, if you are a reader. I think you will enjoy it. :)
Do you have a tumblr? If so-
follow me
... I follow back!!
My name is Holley and I'm addicted to chocolate chip cookies and Veronica Mars at the moment.
Logan and Veronica forever no joke