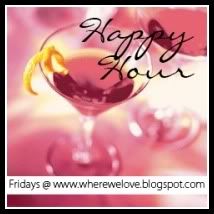 This week has been nuts for me.
If you are just stopping in for Happy Hour, you might not have read my last post about my husband's best friend being in a life threatening car accident Sunday.
He is doing much better. We've been back and forth between the hospital, work and home constantly over the past 6 days. I've spent more time at the hospital than I have spent awake at my own home. But I wouldn't trade it. He is recovering much faster than any one expected, I think. He still has a good ways to go, but it is still encouraging. I looked at him today in awe at how much he has improved. The surgeries did wonderful things for him. I'm truly thanking God that we got some great doctors to work on him and fix him up.
But this has taken a toll on me. I'm exhausted. I'm grouchy. All I want to do right now is go home, curl up with a book and my pup, and relax. Then sleep. I need sleep.
I dont have much going on this weekend, thankfully, because we are going to still be spending time at the hospital. Tomorrow my aunt and I are participating in Bowl for Kids Sake, a fundraiser in our area for the Big Brothers Big Sisters of East Tennessee. Then, we are having game night with our family.
And Sunday is wide open for me, though Steven has to work.
This month's book is The Hunger Games by Suzanne Collins. I've heard a million great things about this book, and I picked it up one night this week and could hardly put it down. It was fantastic, and I'm not more than 50 pages in. Awesome.
Well, I'm going to close this up for now, but thanks for stopping by on this wonderful Friday!
Its most definitely a Lifehouse kind of day, so enjoy this soothing song from one of my favorite bands...